Singleton Greyhounds clean sweep in Round 4 of Group 21 competition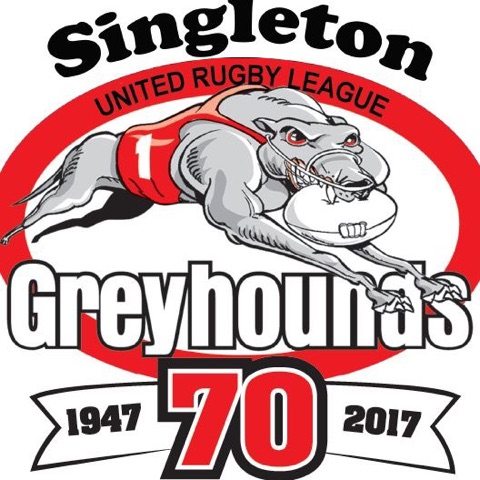 After a lean weekend last round it was a much better day at the office for Singleton teams in Round 4 of the BHP Billiton Group 21 competition with all four sides savouring victory.
The First Grade encounter between the Ourcare Singleton Greyhounds and the visiting Greta-Branxton Colts was a desperate affair with both teams winless thus far in 2017. Singleton again fielded a vastly understrength team this time minus hooker Thomas Johnson on top of the unavailability of several key forwards who have been out for some time now. On a positive note were the inclusions of five-eighth Chad Solman, prop Josh Desmond and utility Hayden Yates who all got through their first game of the season in impressive fashion.
Indeed it was a deft kick by Chad Solman who found winger Nathan Sweeney to score the opening points of the game but in the 19th minute Greta-Branxton equalised with a grubber finding their wingman in the corner. By no means was this a quality contest with errors a plenty from both sides. It was the Solman – Sweeney combination again coming together with Sweeney proving to be a great acquisition for the Greyhounds in 2017. But, there's always a but, a loose ball on the stroke of half-time was scooped up by the visitors giving them a converted try to take the lead 10 – 8 at half time.
The Colts improved that lead to 14 – 8 on the back of some silly penalties and field better position. An error by Greta-Branxton from the ensuing restart however put Singleton on the attack with Jake Smith sending a short ball to a strong running Hayden Yates to score. Goal kicking continues to be an issue for the team with the conversion waved away but the deficit just 14 – 12 now. This time it was Yates who charged into the line before flicking a speculator onto the chest of Jake Smith in support who scored Singleton's fourth try of the evening after 66 minutes. It was a tense final period as both teams blew chances to secure a win but the Dog's prevailed 16 – 14 to open their 2017 account.
Hopefully the side can get a bit of confidence out of the victory but their error rate and discipline still need work. It's been a testing time in particular to key players so early in the season but if they can ever get their best 17 on the park who knows where they will end up. A big test against the Tigers next Saturday away from home who are considered a top contender this year.
The Remondis Group Reserve Grade side had little trouble disposing of a young and understrength Greta-Branxton side 34 – 6. The Dog's led 14 – 0 from tries to Zac Howlett, Jake Mackaway and Jay Ferrie at half-time but they probably left that many points on the field with a high mistake rate. The second half was a little better as they pushed the margin out to 34 points thanks to four pointers from Lachlan Picton and Kyle Bailey while Ferrie and Howlett bagged doubles. Credit to the visitors though who never stopped trying and were rewarded with a soft try at the end of the game to round out the final score. Whilst the team can no doubt get stronger, fielding the best available players in the top grade is the priority and some players paid a price for that this week. The team should improve on that effort and will need to coming up against unbeaten Premiers Aberdeen this week.
The Singleton Tyre Centre Under 18's travelled to Scone on Sunday and looked to be in trouble early against the home team. An ankle injury to five-eighth James Bradley saw him come from the field after 15 minutes and take no further part. Plenty of errors from the pups are still holding the team back, especially in attack. The team saw off any perceived threat with some stinging defence complimented by great line speed. An early try to Morgan Amidy gave Singleton a slender 4 – nil lead at the break and plenty to think about. In the second period Singleton swung into gear with lock-forward Morgan Amidy adding a double to his tally and further tries to Zac Butler, Cody Landers and Hayden Bourke with Butler landing four from six with the boot. With the score racing to 32 – 0, it provided an opportunity for some of the interchange players to get some quality minutes and they didn't let anyone down. Hoping the team can carry that second half form into their game against Denman next week.
The Entire Concrete Ladies League-tag side bounced back into the winners list with an emphatic display in their game against a youthful Greta side. After having their defensive line breached ad-nauseam last week the girls manage to keep their line intact in a much improved defensive performance. As is often the case when you get that part of the game right, the attack flows from it. Singleton cruised to a 22 – nil lead at the break and went right on with the job in the second half to win 46 – nil by full-time. Singleton's points came via tries to Ebony Ford, Madelyne Sonter, Ebony Butler and Alanna Fisher-Webster with her Sister Holly proving far too elusive for the opposition scoring four tries and kicking five goals in another brilliant individual performance. Brodie Sinclair was another to have a strong game.
The R.E and W.J Gardner Transport 'Players Player' recipients were Nathan Sweeney (1st Grade), Lachlan Picton (Reserves), Cameron Shearer (Under 18) and Jackie Hicks (Ladies). Next Saturday it's an away game against the Aberdeen Tigers and Denman Devils (18's), go you doggies.
Saturday 20th May – McKinnon Field (Aberdeen):
First grade: Aberdeen V's Singleton @ 4:00pm;
Reserve Grade: Aberdeen V's Singleton @ 2:30pm;
Ladies league-tag: Aberdeen V's Singleton @ 1:30pm.
Sunday 21st May – Greta Sportsground (Greta):